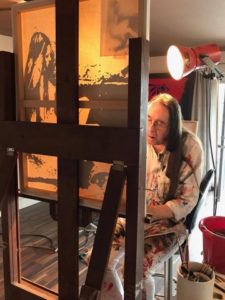 The International Artist known as Ironhand was born William Roy Swick on June 30, 1948 in Pendelton, Oregon. His family soon after relocated to Vista, California. He is a third generation artist. Ironhands training began at the tender age of four. At the age of thirteen, he had his first piece displayed at the Museum of Fine Arts in San Diego, California.
Ironhand spent twenty-four years in the United States Army Special Forces Airborne (The Green Berets). He retired as a Sargent First Class. Through these years, he never abandoned his true passion and has taught art at universities, colleges, and art schools across the United States. He has also been the subject of several television documentaries.
His artwork embodies the spirit of his race and the love of what he does. Ironhand works in many medias, hot glass, clay, graphite, oils, watercolors, bronze, wood, stone, the computer, and many others. He is still creating beautiful art in all medias. His work is extremely diverse and very prolific. His graphic drawings are so distinctive that many have argued as to their authenticity as a drawing and not a photograph.